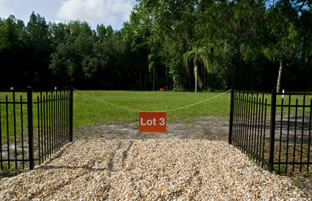 This Loan is:
4.5% @ 1 points on a 3/1 ARM (fixed 3 years), 30 year amortization, balloon payment in 6 years (note that a construction loan pays off your lot loan).
3.924% APR (Annual Percentage Rate)
80% to $300,000 loan amount, 75% to $400,000, 70% to $500,000, 65% to $750,000, 60% to $1,000,000 and 55% to $1,500,000.  No habitable structures on property.  Other structures without value OK.  Red tagged houses OK.  Burned out structures OK.
40 ACRES OK.  Call for higher acreage.
If well and septic rather than city water and sewer, well report and "perc" (percolation) test required.
65% if raw acreage up to 40 acres with no well report or perc test.
Refinances OK, add 1 point to fees.   Add .5 points to fees if loan amount $75,000-$100,000.
Note:  APR calculated using loan amount of $300,000.