Construction Loan #3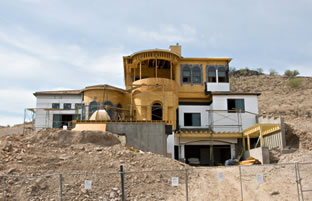 Details:
Single-Close Construction Loan
3.875%% on 5/1 ARM @ 1 points (fixed 5 years)
3.387% APR (annual percentage rate)
NEW: 4 years out of BK or Short Sale.
NEW: 100% loan-to-cost possible.  Lending off "as completed" appraised value from Day One.
This single close construction loan program is also the permanent financing. It is a 5/1 Adjustable Rate Mortgage with the initial interest rate fixed five years.  After the first 60 months, this loan adjusts annually for the next 25 years.  The loan has a 2% annual cap, a 2% first adjustment cap, a 6% life cap over start rate, and a 2.5% margin over the 1 Year LIBOR Index. The construction period is at least 12 months, during which time the loan is interest only on the amount drawn, at a rate of 4.5% over the 1 month LIBOR. This loan has no prepayment penalty.
The maximum loan amount is based on the "as completed" appraised value of the property, without regard to total project costs. The appraisal will be done from the plans, and a value will be determined that represents what this house would be worth in today's market if already completed as planned.
On this program, we do:
80% to a loan amount of $800,000, 75% to $1,000,000, 70% to $2,000,000.
Ground up construction or rehab/remodel both available.
Full income and asset documentation required. No stated income available. Qualify at the start rate plus 2% on this 5/1 Year ARM, with 43% maximum debt to income ratio.    7/1 ARM qualifies at the start rate.
Principle residence can only be a single family.  Two units (duplex) not acceptable.
No spec. No rental properties, no manufactured (modular OK).  No commercial or mixed use.
Note: APR (Annual Percentage Rate) based on loan amount of $500,000, middle credit score of 700+,  and 12 draws.   This APR is currently very low because if this loan were to adjust today, it would adjust to under 3.7%.
Fees, points, and program parameters subject to change without notice.