Construction Loan #5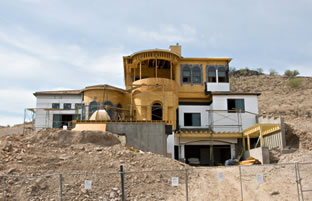 Details:
Spec Construction Loan.
5.25%% @ 1.5 points, fixed for construction term of 12 months.
6.856% *APR (annual percentage rate)
This is not a single close construction loan, and it is not the permanent financing.   This loan will do the lesser of 75% loan-to-cost or 65% loan-to-value to a loan amount of $3M on a spec construction loan where the exit strategy is to sell the property.   This loan has no prepayment penalty.   Call for higher loan amounts.
The maximum loan amount is based on the lesser of total costs or the appraised value of the property. The appraisal will be done from the plans, and a value will be determined that represents what this house would be worth in today's market if already completed as planned.
Ground up construction or rehab/remodle both available. This is either investor spec, where the borrower or guarantor is not the builder, but they have an experienced GC doing the work, or a loan to a GC as the guarantor.  A licensed general contractor must being doing the work in either case.
Since the exit strategy is to sell the property, no debt ratios will be calculated.  Since these are bank loans, tax returns will be required, but the bank will not expect the borrower to debt service this loan.
Generally, this pricing is for the premium spec deal where the investor and builder are experienced doing similar projects, credit is good, and liquid reserves after close of escrow are significant.
For FLEXIBLE SPEC financing, where previous experience is light or non-existent, post closing liquidity is thin, or there were significant past credit issues, we will  do 80% loan-to-cost at 6.0% @ 2 points (8.42% *APR).
Flexible Spec loan-to-values:
60% to $2M
55% to $3.5M
50% to $5M.
above $5M, call.
Always interest only on the amount drawn.
Note: *APR (Annual Percentage Rate) based on loan amount of $1,500,000.
Fees, points, and program parameters subject to change without notice.